Individual and Group Art Therapy sessions for Adults, Children & Teens ~ in the Macedon Ranges & Mount Alexander Shires
Praise…
Marita takes you into an art space where you are able to create a story using your own pieces of work.
Her compassion and love for creating meaning through art is unique.
Effie Lagos
Thank you Marita for a soft leadership. Through calmness, you are leading me towards the goal, what it is I need to shine on myself. It's wonderful with so much material to choose from in the creation. The clay is an enormously good tool. To let the hands play with it and see what it turns into. You pointing out in a very good way the importance to be in the present and to really feel the material and the colour with all your being and all your senses. To then continue with clay figures in our own body movement, just to be able to use your own body to express your inner being is fantastic. You are a calm and harmonious leader. Light and love Ing-Marie (Sweden).
Ing-Marie Sönne
Private Creative Arts Therapy ~ Sweden, 2013
A workshop with Marita is like stepping into a new world were nature is your dance partner and source of inspiration for your movements, for your own unique dance. Relating to nature in this way, close and intimate evokes feelings of communion and oneness with nature and made me feel a part of everything. Working together in a common workshop was smooth and effortless with a lot of space for each others gifts and creativity and an openess to find new meetings of what we could offer. There is so many possibilities for co-creation and blending of different arts in Marita's work and that is so beautiful. I am thankful that I could be a part of it. (Sweden)
Malin Odenhall
Physiotherapist & Dance Practitioner
My organisation Many Hands International, hosted Marita to work with us offering arts therapy services to women in Timor-Leste who had experienced trauma during their country's turbulent history. We were delighted that Marita was so thoughtful, kind, sincere and fully present to all the women she worked with. She offered creative, stimulating, challenging and quieting experiences which participants enjoyed enormously and reported significant benefits from. Many very appreciative comments like this came back in evaluations translated from Tetum: "Today, I follow this workshop, I feel happy because as a new experience for me, so I can apply to my friends or in my family what we learn about the health for the women. I give thanks to Many Hands International, which share their experience with us." We recommend Marita's arts therapy work very highly.
Dr Kim Dunphy
Director ~ Many Hands International www.manyhands.org.au
Marita has companioned me as a peer and co-inquirer for many years now. We have worked side by side holding space and supporting arts making with people of various ages and ability. I have also been blessed with the opportunity to have Marita hold space for me during one-on-one and group co-inquiry sessions during which I have explored both professional and personal experiences. Marita has such a gentle, generous, sensitive and non-judgemental way of being with others. She is also very imaginative and creative with her invitations to inquire and her responses. Anyone considering having her as a companion or facilitator would be blessed.
Natalya Garden-Thompson
Creative Arts Therapist & Community Artist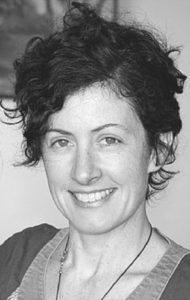 Connect
Marita Jacobsson
0404 008 432
marita(at)thresholdsandranges.com.au
My approach
…is to companion you with utmost care and compassion, as you navigate thresholds of change and growth in your life and integrate new ways of being.
I offer a range of therapeutic and creative experiences to promote healing, creative living and wellbeing. In my creative approaches as an Art Therapist, I draw on my diverse experiences as a former Registered Nurse over a span of ten years. I also draw on my parenting experiences and life experiences growing up in a very large family in regional NSW.
I gave nursing care to children on the medical ward of The Royal Children's Hospital, Melbourne. I have nursed young people (teenagers) in two Melbourne secondary schools, providing health promotion, counselling individuals and running groups.
I have also nursed people diagnosed with terminal illnesses as well as people with complex and chronic illness (including mental illnesses) in their homes and in hospital, including individuals with disabilities. Another of my nursing roles has been supporting people completing a medicated drug or alcohol withdrawal on a detoxification unit.
Seeking change after a struggling wth my own mental health, I completed a Graduate Diploma in Creative Arts Therapy at The Melbourne Institute for Experiential and Creative Arts Therapy (MIECAT). I followed these wonderful studies with completion of my Masters in Creative Arts Therapy also at MIECAT ~ graduating in 2011. Since then I have worked in Melbourne, Sweden and Timor-Leste in varying capacities as an Art Therapist, Community Artist, Creative Movement and Dance Teacher, Art after school Program Facilitator and a Researcher – with individuals and groups across the lifespan.
I am a Professional Member of the The Australian New Zealand and Asian Creative Arts Therapy Association (ANZACATA). I am also a member of the Group of Registered Regional Arts Therapists (GRAT) and I hold a current Working With Children Card. I am constantly expanding my knowledge and skill base, so currently I am completing a Diploma of Counselling.